Dr. Oxana Hughes provides a comprehensive, patient-centred, holistic approach to gynaecology treatment for women of all ages. 
Dr. Oxana Hughes provides a comprehensive, patient-centred, holistic approach to gynaecology treatment for women of all ages.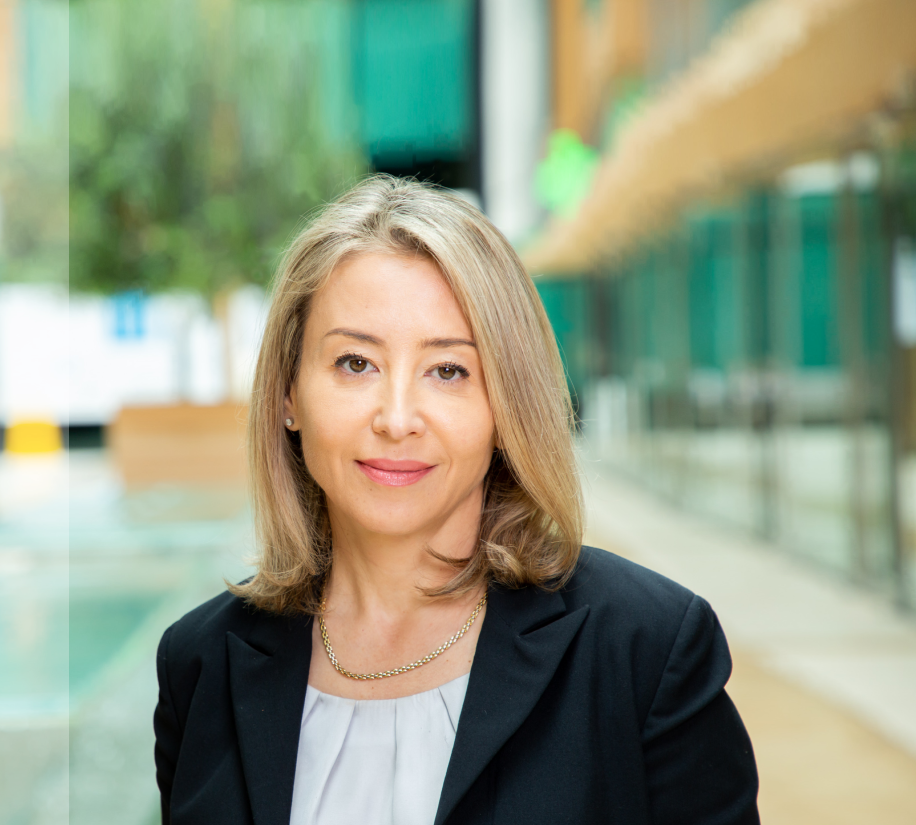 Dr. Oxana's career in Obstetrics and Gynaecology spans both the Eastern European and Irish healthcare systems, where she has developed strong clinical skills.

Today she brings this broad skill set to the Beacon Hospital's Women's Centre, where she provides care for prevention, diagnosis and treatment of gynaecological problems.
Endometriosis is a common gynaecological condition where women develop tissue that looks and acts like endometrial tissue outside of the uterus, usually on other reproductive organs, inside the pelvis, or in the abdominal cavity. As the menstrual cycle works, this lining builds up and breaks down just as an endometrium does normally, only this causes a bleed inside the pelvis. This can then lead to inflammation, swelling and scarring of normal tissue surrounding the endometriosis implants. 
Fibroid Resection Surgery – Hysteroscopic Method
Many fibroids may not need to be treated. However, some fibroids cause abnormal uterine bleeding, pressure, pain, or other symptoms and they may need to be removed. Depending on where they are, two different methods can be used. Fibroids located within the cavity of the uterus or clinging onto it are removed using the hysteroscopic method. This uses a hysteroscope, which is a thin, lighted telescope-like device. It is put into the uterus through the vagina after the cervix has opened. Images are shown on a monitor.
An Intrauterine Device (IUD) is a form of birth control that your doctor places inside your uterus. Once inserted, it will protect you against pregnancy for up to 10 years. An IUD insertion is a quick procedure that can be completed here at Beacon Hospital. IUDs are shaped like a T, with one arm on either side.
For women, menopause is the time that marks the end of the menstrual cycle. It's diagnosed after you've gone 12 months without a menstrual period. Menopause is a very normal part of aging and usually occurs in women between the ages of 40 and 50 years old. Natural menopause is the body's organic response to your reproductive cycle slowing down and preparing to stop. 
What Happens
At My Appointment
Following receipt of your doctor's referral, a meeting with Dr. Oxana for a gynaecological evaluation will be scheduled. A thorough medical history will be obtained at this session, along with a gynaecological examination. It is helpful for a patient to empty their bladder prior to an examination. Patients are also advised to upload their external USS/MRI scans to the Beacon Hospitals online system for review and comparison.

It is very important that having been given your scheduled appointment time, you arrive at least 10 minutes prior. This allows time for check-in and ensures that you are ready to see Dr. Oxana at your appointed time slot. Your appointment with Dr. Oxana is for a maximum of 30 minutes. We ask that you be respectful of this in order that all patients are seen on time.

Following your initial consultation with Dr. Oxana, additional testing or treatment may be required. As Dr. Oxana operates as part of a multidisciplinary team within the Women's Health Centre, you may be returning to see Dr. Oxana, or in some cases, she may advise and refer you to one of her colleagues whose area of specialty more closely matches your needs. If any gynecological problems need surgery, Dr. Oxana has full access to the 8 state-of-the-art operating rooms at Beacon Hospital.
I have a GP/Therapist Referral
Please complete the appointment request form below and we will be in contact with you.
If you would like to see Dr. Oxana and do not have a referral, we ask that you contact your GP explaining the reason for your interest in an appointment. We do need to receive a referral from your GP in order to facilitate an appointment.